The largest HR-conference Smart HR Online Marathon on YouTube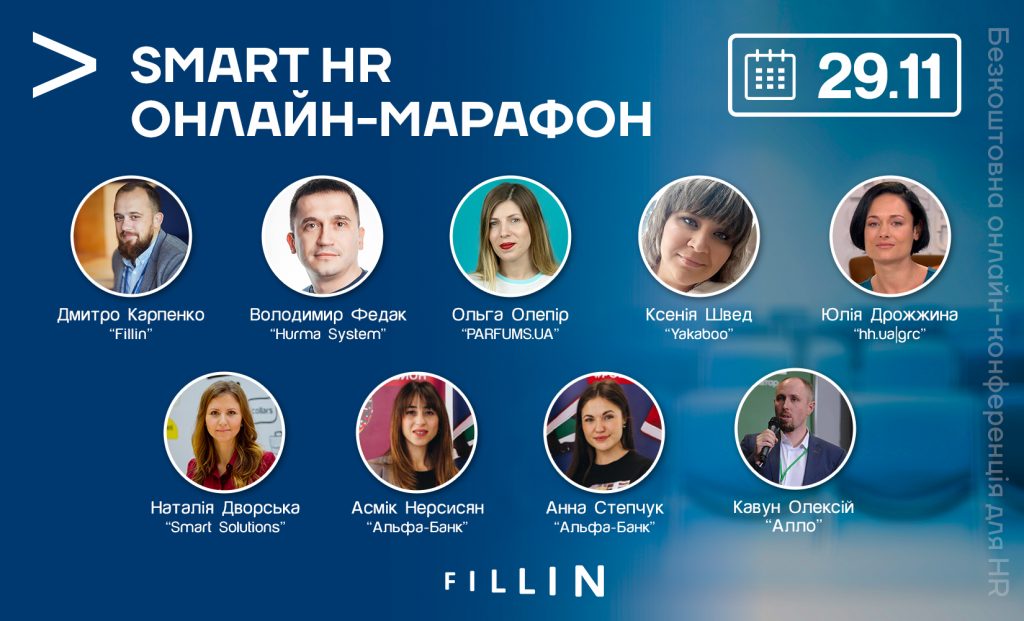 On November 29, Fillin gathers leading Ukrainian HR practitioners to share about the trends and challenges of HR in 2020.
Smart HR Online Marathon — 11 speakers and 8 hours of unique hands-on content.
The main purpose of the event — bring together HR professionals and share knowledge about new year's trends and challenges. Smart HR Online Marathon — a platform for networking, sharing experience and knowledge.
Invited Ukrainian HR-"stars":
Head of the think tank «hh.ua|grc» Yuliya Drozhzhina, Head of HR-projects "Allo" Alexey Kavun, HRD «Parfums» Olya Olepir, Director for people «Yakaboo» Kseniya Shved, Head of talent acquisition «Alfa Bank» Osmik Nersisyan, Commercial Director «Fillin» Dmitry Karpenko, Head of Employer Brand Development for Alfa-Bank Anna Stepchuk, Head of the recruitment department «Smart Solutions» Natalia Dvorska, CEO «Hurma System» Vladimir Fedak and others.
Event topics include: adaptation of personnel, job and employer selection criteria, HR in digital, recruitment trends, employer brand, and more.
Join the YouTube Online Conference on November 29th from 10:00 AM to 6:00 PM NON-STOP.