PersiaHR is now integrated with Rabota.ua!
Good news for Ukrainian recruiters!
As you probably know, from your PersiaHR account you can post vacancies and receive feedback from Work.ua, Talent.UA, grc.ua,  HeadHunter, SuperJob and Jobs in Kharkov. Moreover, all this is done from one page — in fact, you can publish or update a vacancy on all sites in one move!
Now Rabota.ua, one of the leaders among Ukrainian job sites, is also added to this list.

With integration with job sites, including Rabota.ua, you can:
post jobs from PersiaHR in one click;
update and edit jobs at job sites;
resumes of candidates who have responded to vacancies are automatically added to the system.
How does it work?
To use the integration with Rabota.ua, go to Account Settings and select the Integration section. On this page, in addition to the icons of Work.ua, HeadHunter and SuperJob sites, the Rabota.ua logo also appeared. Click Connect button and enter the login information of the site. The system will remember this information and you do not have to enter it every time.

In order to post a job on Rabota.ua, just go to the page for job editing, in the Publication tab check Send a lob to Rabota.ua for publication and fill in the required fields with information about the job. Some fields are filled in automatically based on your registration data and company information.
You can also post a job on Rabota.ua directly when you create it in PersiaHR.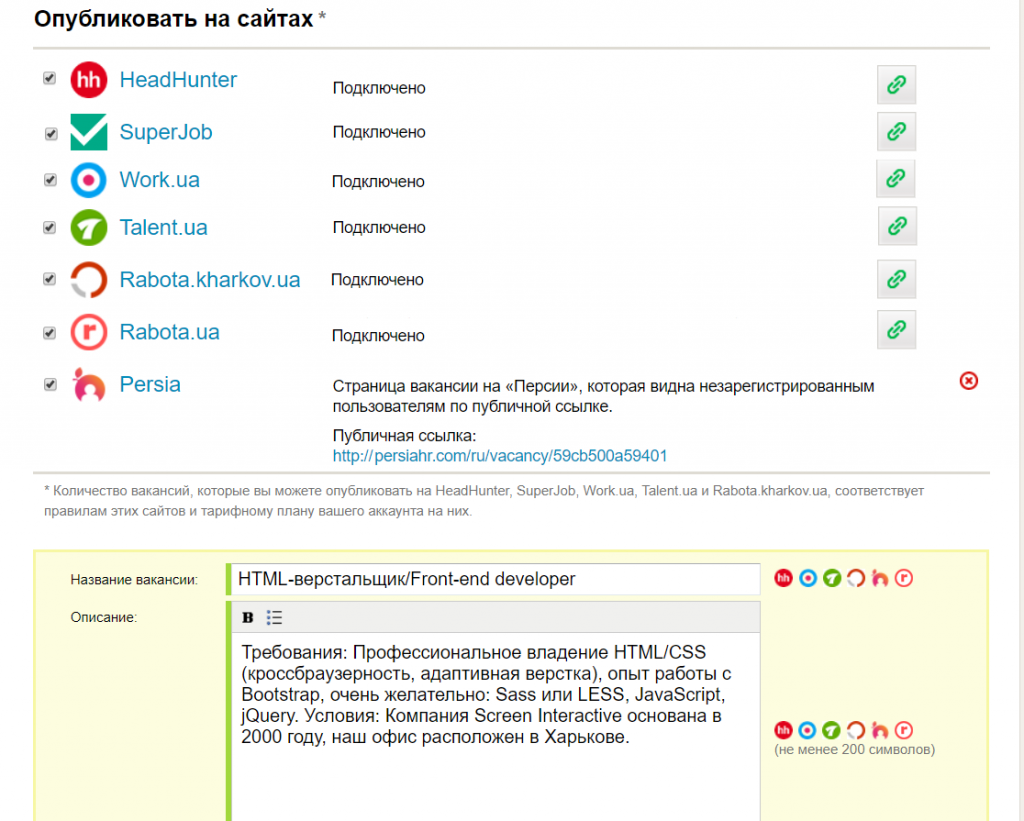 After filling out the form, the job is published on Rabota.ua on behalf of your company. Now all resumes that come to you from this site will be automatically added to your database, recognized and linked to the corresponding vacancy.
If your vacancy has already been published on Rabota.ua, you can also link it to your vacancy in PersiaHR.
We are sure that the new PersiaHR feature will make your work more efficient and convenient. And if you have ideas for improving PersiaHR, we will be glad to hear them!
Contact us in any convenient way:
clients@PersiaHR.com
+38 044 384 20 05
Skype: persiahr